FM1204 to wodoodporny (Ip67) terminal urządzenia śledzącego w czasie rzeczywistym z łącznością GPS / GLONASS i GSM, który jest w stanie zbierać współrzędne urządzenia i inne przydatne dane i przesyłać je przez sieć GSM na serwer. Urządzenie to doskonale nadaje się do zastosowań, w których potrzebne jest pozyskiwanie lokalizacji odległych obiektów: zarządzanie flotą, transport wodny, motocykl, transport publiczny, wypożyczalnie samochodów, firmy logistyczne i tak dalej. W przypadku utraty połączenia FM1204 może przechowywać do 100 350 rekordów, a po nawiązaniu połączenia urządzenie będzie wysyłać zapisane dane przez GPRS. Dzięki temu nie stracisz swoich danych (współrzędnych, danych z czujników itp.).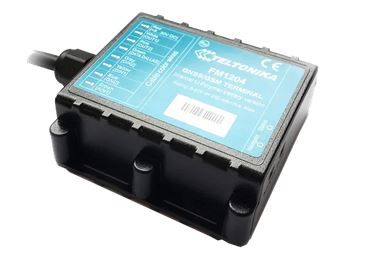 TECHNICAL DETAILS:
GSM:
Quad-band 900/1800 MHz; 850/1900 MHz
GPRS class 10 (up to 85,6 kbps);
SMS (text/data)
GPS/GLONASS:
NMEA protocol compatible. Messages: GGA, GGL, GSA, GSV, RMC, VTG, TXT
32 channel GPS/GLONASS receiver
-161 dBm sensitivity
Interface:
1 Digital Input Reserved for Ignition Status Monitoring
2 Digital Inputs
1 Analog Input (10V or 30V range)
2 Digital Open-collector Outputs (connecting external relays, LED, buzzers etc.)
1-Wire® protocol
1Wire® temperature sensor
1Wire® iButton
Motion sensor
Power supply (+6…+30) VDC
Hermetic enclose IP67
Integrated Li-P o back-up battery
Internal High Gain GSM antenna
Internal High Gain GPS/GLONASS antenna
Internal Flash memory – 16MB
Dimensions: L(72,5mm) x W(73mm) x H(27,3mm)
2 Status LEDs
USB Port
Configuration and firmware upload (FOTA and via USB cable)
Features:
Hermetic enclose IP67 allow use device in place where is contact with water
Internal High Gain GSM antenna and Internal High Gain GPS/GLONASS antenna allow mount FM1204 much easier
Real Time tracking
Smart algorithm of data acquisition (time, distance, angle, ignition and event based)
Sending acquired data via GPRS (TCP/IP and UDP/IP protocols)
Smart algorithm of GPRS connections (GPRS traffic saving)
Operating in roaming networks (preferred GSM providers list)
Events on I/O detection and sending via GPRS or SMS.
Scheduled 24 coordinates SMS sending when GPRS not available
5 geofence zones (rectangular or circle)
Auto Geofencing crested for car towing detection and car theft prevention
Deep Sleep mode (less than 2 mA power consumption)
FOTA (firmware updating via GPRS)
Small and easy to mount case
3 operational modes (Home, Roaming, Unknown) based on operator
Integrated scenarios:
Over speeding to secure driver and prevent penalties
Immobilizer function
Authorized driving (1-Wire® iButton ID keys up to 50 iButton keys)use to prevent stealing or indicate drivers
Trip start and end detection
FM1204 can be used without a GSM connection
Additional function – Offline data logging – allows to download acquired data from FM1204 to PC via cable and later to upload it to – TAVL server. This functionality helps to avoid high GPRS bills caused by expensive roaming operators and keep acquired data save until – it is downloaded to PC
FM1204 supports a remote logs reading
FM1204 supports remote diagnostic logs functionality using GPRS. Possible issues resolving becomes faster. Manufacturer can read logs remotely using SMS/GPRS to diagnose the FM1204 and timely respond to the fault.